Donor IVF
Egg Donation Centre in Delhi Fulfilling Dreams, Delivering joy
For the childless couples who are deprived of having their biological child, this is a treatment that can bring a ray of hope into their lives. Donor IVF is a fertility treatment under which the eggs of a donor are fertilized with the sperms of your partner and resulting embryos are then planted in the uterus for conception. We at Mother's Lap IVF Center, offer a comprehensive and personalized IVF treatment to such couples who no longer need to wander around in search of a conclusive programme.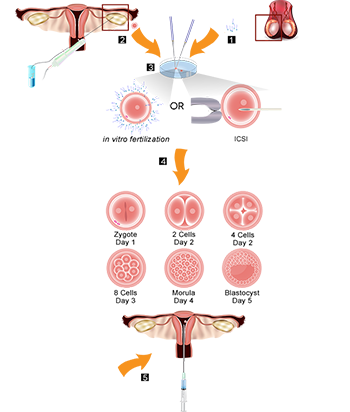 Using the donor eggs or sperms is especially beneficial for those women who are above the age of 40 years and for women with genetic diseases. At our Egg Donor Centre in India, selection of the donor is done after several tests related to the donor's medical history, physical conditions, educational and occupational records, psychological and ethnical conditions.
At Mother's Lap IVF Center, Dr. Shobha Gupta and her team is well equipped with modern amenities and technologies to assist in successful conception, right from the screening of the potential egg donor to administering of drugs and placing the embryos in uterus as per standard IVF practices. We provide a complete IVF programme to save you from the pain of visiting pathologies, fertility clinics, and embryologist separately as we have facilities to conduct all tests like Sonography, blood and also a well-managed pharmacy under a single roof.
As this process depends upon multiple factors to give desired results, the past success rate of doctor can help largely in building the trust between the doctor and patient. We have an incredible rate of success to assure you accomplishment of your most cherished dream as we boast of ourselves being the best egg donation centre in delhi.