Surrogacy Programme
Miracle Happens at the Best Surrogacy Clinic in Delhi
Surrogacy as an alternative fertility programme has been pushing aside the hurdles and growing ahead rapidly at various surrogacy clinic in Delhi. What is the reason behind? Aptly it is largely due to the changed scenario and outlook. If being childless is a curse, then our clinic in Delhi are the medical bliss for such couples.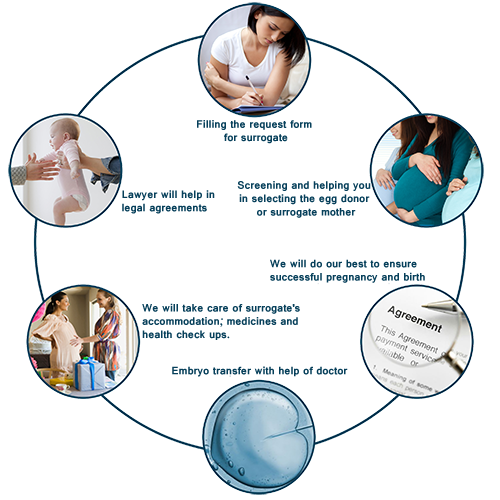 The best surrogacy clinic in Delhi is helping them to build families and fulfill a most cherished dream of being parents to their biological child. And how are we causal in it? Over the years, we have grown by leaps and bounds. The journey, though, was not a cakewalk. Best Surrogacy in India, an initiative under the aegis of Mother's Lap IVF centre, has conceived surrogacy treatments which adopts a conclusive approach towards building as well as completing families.
But as we progress we are faced by the same question time and again, are we really doing it the best way? For couples who opt for surrogacy, search for a perfect surrogate probably is an uphill task. So many queries and doubts hover on their mind as to the criteria for finding the surrogate who will bear their biological child. We make sure all these doubts are cleared and queries solved at the best surrogacy centre in Delhi and apply the best option for your surrogacy treatment.
In fact, we leave no stone unturned to convince them regarding the selection of surrogates for them. Our tie ups with authentic agencies and our network facilitate couples to decide on the surrogate they would like to bear their child. It is a perceptive decision that needs diligence and proper screening. You can't select a surrogate without going through a series of medical examination. Being the best surrogacy clinic in India, we ensure that. We examine them all for being physically and mentally fit as well as medically sound so that your child will always be in the pink of health.
Delivering Successful Result through Surrogacy Treatment Delhi
The surrogacy treatment Delhi journey doesn't end here. Egg donation is the next step. Sometimes, the females are not able to carry pregnancy due to past history of many failed attempts. In such cases, if the intended parents can donate their own eggs and sperms, it gets easy but in case the eggs of female are not fertile enough to give birth, then we also arrange the best egg donors for you, whose eggs are used for IVF with your partner's sperms to create good embryos. It is then placed in surrogate's womb. We give the best success rate in the world and affordable surrogacy cost in Delhi. Our team search for most fertile surrogates for you.
To assure you positive results, we have the latest technologies and a team of medical specialists working under the adept guidance of Dr.Shobha Gupta.
Routine checkup, nutrition, and medications, as required, are provided to these surrogates right through their pregnancy. This we do to make sure that your baby is delivered without any complication in a well equipped facility with NICU. The icing on the cake is the cost implied in this entire procedure which is extremely low. This is one of the major reasons for growth of India as a surrogacy destination. Surrogacy Cost in Delhi is very low. Low costs and flexible laws make it easier for the intended parents to expand their families with their own child.
Did we just say laws?
Yes, there are legalities involved in Surrogacy programmes during surrogacy treatment Delhi. There is a myth that if a surrogate is inseminated with partner's sperm, she becomes biological mother which is not legal. But these issues are well taken care by our panel of legal experts who lend their professional support to you throughout your journey and help you to expedite the process of attaining parenthood.
Success Rate:
Our Success Rate in Surrogacy : 85%